Silicone wedding rings are becoming more and more popular every day. When buying a product people are interested to receive good value for their money. The future married couple is not satisfied with just visual appearance. In searching for a multifunctional item they realize the need for silicone wedding rings that match a lifestyle.
Тhe benefits that mostly attract our customers are comfort, safety, and affordability. We at Maui Rings gladly provide a solution. The characteristics that we implemented in our rings are well thought off in addition to creating the perfect silicone wedding ring for everyday use.
If you are just now starting to look for an alternative to the traditional precious metal wedding ring and find yourself a bit confused we are here for you. You might wonder what is the difference between branded silicone wedding rings and no name rings. Or you are simply curious to know from who is best to order and why. Let's find out together and accompany you through your decision-making process. We are here to guide you.
Starting out with Design
It is quite easy to notice the difference between designs. 
With branded ones, you can instantly spot a variety that is unique and inspired by something specific. Like for example, our rings are inspired by nature. 
It is a good sign if the brand has presented a collection. Because it means that a group of products with a similar specification has been combined together. We have for the men Solid, Adventure, Sport, and other collections. For the women, we present Dimond, Braided, Elegant, and others. When a brand takes the time to put so much effort you know they mean business and if they took care of such primary things they most likely have to take care of every little or big aspect concerning rings. 
Here we would like to let you know that our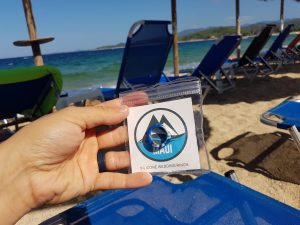 Adventure Arctic Silicone Men Ring has been named "Most Unique"  by Weddings To The Wire we were distinguished by the design category.
What about the design of the generic ordinary low-class silicone rings. You will find different colors that is about it.
Price, quality and the quantity
Some brands very proudly announce the expense of their rings. Sending the message we cost more therefore we are better.
We at Maui Rings happen to believe in offering a quality and affordable product. Which is why here we would like to share that
The wedding to the wire mentioned us in their review after wearing our rings with this snippet "Compared to other rings on the list, you get the best value for money when it comes to a premium grade silicone wedding band."  So our rings are made from the same class material as are the other A-listers but still we find ways to have competitive prices. Our rings cost approximately between 10 and 20 dollars. We have single rings and sets of 4 for buyers' convenience if they like to own more than one. 
About ordinary not branded silicone rings, well we are not exactly sure what is the material they are made of. If they are hypoallergenic, are they safe, are they breathable but yes of course they compensate with a price. You can buy probably 20 ordinary rings for the price of one quality ring. The choice is yours.
Our Vision
We value strong successful marriages. We have a great community from newlyweds to growing families with whom we share our journey. We believe in commitment and love. A wedding ring is a symbol of those things. We just add comfort and safety to the equation. Our lives are evolving so are our everyday needs and products. Join our community today buy a quality silicone wedding ring here at Maui Rings.