When buying a wedding ring people think of traditions and what looks nice, what will impress their fiancé and things like that. 
Usually leads up to buying the most expensive one in order to express their love. The traditional wedding rings and engagement rings are mainly made of precious metals. Gold, silver, and such but are they comfortable? The wedding ring is a symbol and it is both to be worn every single day. So why not choose a more contemporary approach and show appreciation and tactfulness to your spouse.
The silicone wedding rings are one if not the most comfortable option.
Let's find out why.
Convenience
Some of the benefits of the silicone wedding rings are that they are – 
 – durable: the rings are solid but just the right amount meaning under a lot of pressure they break, however they really are a longlasting purchase and won't disappoint in your working days. Either way, you have a lifetime guaranty so they really are forever.
– lightweight: you will not feel them on your hand, you can easily forget that you are wearing them.
– breathable: an absolutely great feature for the warm days 
– waterproof: it makes it easy to clean.
– they do not cut off circulation like a metal ring would do when your fingers are swelling.
All these great points make them hundreds of times more convenient than a metal ring.
With silicone wedding rings you have the ability to, work, train, and enjoy life.
Specially made with convenience in mind for people with active lifestyles, handmade jobs, and craft hobbies. Not wearing a metal ring is required of people with the following professions, medical employees, mechanics, farmers, athletes, electricians, policemen, firefighters. Silicone wedding rings are a great option for them too.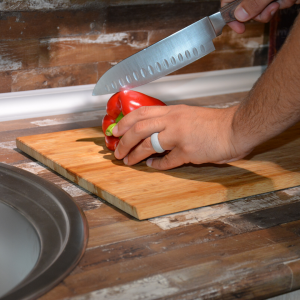 Inconvenience
With a metal ring, you absolutely feel that you are wearing a ring on your hand. When you take it off definitely can feel the difference. Your hand feels lighter and especially the finger on which you were wearing it. Another disadvantage that brings discomfort is when your fingers swell. I have seen people moving the ring up to change the placement and wondering whether they should change size or if they will be able to remove it at all. Add this one to the bunch. It is not safe for some activities and work. It might get caught up and break after a person is injured so this is something to be cautious about. Not very pleasant during workouts either. Think about it, you don't train in a suit or with jeans, do you? It is the same here. 
I will give you a rather personalized opinion on this. Most men buy their fiances very beautiful and pricey engagement rings which end up in a box in the safe after the big showing off. So when I see a newly engaged woman I often ask why she isn't wearing her engagement ring. I received this answer: "well we were going skiing" or "…we intend to do some climbing" or "I don't want to lose it" and so they just don't wear their shiny rings because they don't feel it is comfortable or appropriate for the activity.
I am always confused about why people keep doing this. It seems to be quite outdated.
When men are making a purchase of some technical sort they always check everything early on. It takes them weeks or months sometimes and then they go, knowing more than the sails guy and purchase the best item for their needs based on quality and price.
More and more people see the value of comfort and convenience of the silicone wedding rings.
Be one of the early adopters and choose wisely a practical wedding ring that matches your everyday needs.
Find out which one you like the most here: